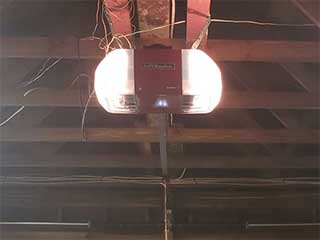 Professional Opener Installations In No Time
Why risk your brand-new opener being assembled or installed incorrectly due to inexperience when you can have an expert do it instead? Even the simplest of openers can have trouble if even one thing is slightly off, and this may cause it to wear our much faster than it would otherwise. Our team can easily put it together and install it for you with our knowledge of all the major brands, from Genie to Craftsman. If you've already bought it, that's fine! We'd still be glad to help you.
Repairs Done Before You Know It
We know you don't want to have your busy schedule delayed for very long, but we'll come out and get right to work on determining the root of the problem to get it fixed quickly and effectively. From the motor to the circuit board, parts may simply wear out over time from use, or become rusted from moisture. In either case, we can either repair or replace the part to get things back in working order. If we find that your opener is potentially too old to work well, or if you just want to upgrade, we can replace it entirely as well.
Take Precaution With Your Opener
Be on the lookout for any strange symptoms your garage door may be exhibiting now and save yourself a lot of hassle in the future! Letting your door continue to function when it needs repairs will only serve to worsen the issue and potentially spread damage through the rest of the system from strain. This is why it's important to note any signs like a lot of noise even while the door isn't moving, it struggling to in general, or reversing suddenly as its closing. Should any of these troubles pop up, just call us and we'll be out right away.
Tend To Your Opener Today
Contact Garage Door Repair Mint Hill and let our team get your opener working like new again in no time at all. You'll be glad that you did!
Additional Information You Can Use
What are some useful garage door opener troubleshooting tips?
If you suspect there is a problem with your garage door opener, you can try a few troubleshooting tips. Check the photo eye sensors. Make sure they are clean and properly aligned. You should also check the batteries of your remote control or check if the door has been manually locked. The problem may not be with the opener itself necessarily, but with other hardware parts such as the springs. If you have any doubts, call nearby garage door repair specialists. Hint: that's us.
Which garage door opener brand is best?
If you're in the market for a new garage door opener, stick to the brands that have a solid reputation for producing reliable and durable openers that operate quietly and efficiently. Some of the best brands in the garage door market include Genie, LiftMaster and Chamberlain. They have many different models to choose from and you can choose models with features you will love like WiFi connectivity, battery backup and more.
How does a garage door opener work?
A garage door opener works by reading a signal from a remote device. Older openers worked on a generic code signal. Newer models feature rolling code technology so the code changes after each use, to prevent code-jackers from, well, jacking the code and then utilizing it to control your garage door. The opener receives the signal from the remote and begins the sequence of opening the door either via a chain, belt, or a screw arm, depending on the type of opener model you have. It's electromechanical motor produces the necessary horsepower using its main gear, which is why before buying a new garage door opener you need to make sure the model you want is actually capable of moving your door's weight.
We also offer:

Garage Door Weather Stripping

Garage Door Safety Inspections

Part Replacement & Lubrication

Garage Door Cable Replacement