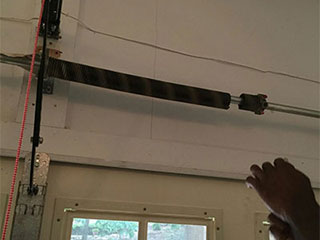 Do The Springs Matter?
Absolutely! In fact, they're one of the most important parts of the garage door system, and without them your door won't be going anywhere. The springs essentially act as the muscle that's used to be able to lift the door up when you need to leave, as it's much heavier than you might think. This is why it's usually noticeable if they're having trouble, as the door will have a hard time opening and closing. If you notice something like it falling closed more than it lowering, that's a sign that the springs need attention. However, make sure you allow the professionals to do it! DIY is much too dangerous thanks to the fact that the springs hold the weight of the door. One wrong step and it can all come crashing down, or the spring itself could snap and harm you. It's much safer and easier to allow the experts to handle it.
What's The Difference Between Spring Types?
The main variation in the two kinds of springs is in how they generate and store energy. Extension springs do so by being pulled taut. Torsion, on the other hand, twist to do this. The other difference is in longevity, as extension springs tend to wear out and break more quickly due to the strain of being stretched out. They can snap and bounce to cause damage when they break as well, which is why it's a good idea to have this type of spring checked out every now and then to be safe.
We Tend To Either Spring Type
Torsion or extension, you won't have to worry about whether we can adjust or replace them as needed! We're deeply knowledgeable of both kinds, so we'll have it taken care of right away for you. Our experts can simply adjust the springs back into place, or replace them entirely if needed from wear or rusting.
Contact Our Team
Call Garage Door Repair Mint Hill today and let us get your door moving smoothly and easily again!
Our team can also take care of:
Replace Door Sections
New Garage Door Keypads
Fix Garage Door Track
Garage Door Roller Repair